---
Parish Administrator
Diane S Rowley- Parish Administrator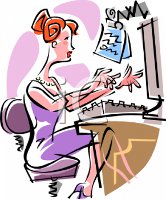 Born in Connecticut. Brought-up in Branford.
I was one of Trinity's Deanery and Convention Delegates and Administrator of the New Haven Episcopal Deanery.
Substituted occasionally for Trinity's Parish Administrator. For three years processed the Offerings from their worship services. I assisted at all the Weddings and Funerals at Trinity. Serving as Chalice Bearer, Lector and Crucifer as needed. I attended both Sunday services. At the 10:00 Service, I was a member of the Prayer Team that offered up personal prayers at the Baptismal Font during the Eucharist.
At Wednesday's Healing Service I lead a prayer service as lay celebrant when the clergy was unavailable.
I served on the altar guild as needed. Usually during April. A challenge due to Holy week.
Was a member of Trinity's MIssion Committee. Chaired the committee that engaged Trinity with several New Haven Deanery parishes to sponsor a woman and three girls from Rwanda into the United States.They became members of Trinity's parish and the woman married at one of Trinity's 10:00 services.
I was publisher and compiler of Trinity's Annual Report and Fair Journal.
The love of my life, Bob, died in 2006 of kidney failure after 7 years of dialysis treatments. We had been together for 33 years. I am mother to 6 feline children. Spirit, Peace, Faith, Trinity, Hope and Time. I was third generation family member of Trinity parish. I have two sisters…who with their children and grandchildren live out of state. They all considered Trinity their family church. Two following generations had been baptized at Trinity. I was, of course, baptized at Trinity but was estranged for over 30 years. I rejoined the flock in 1999 following my mother's funeral service. A different parish 'feeling' had evolved. As well as, I guess you could say, a personal transformation/revelation. Finally, feeling and acknowledging God in my life. Following an early morning Ash Wednesday Service as I was serving as Altar Guild and reflecting on the morning's sermon…the difference of being a Christian and walking the walk and talking the talk. You know Ash Wednesday's readings. Father Hank Burdick asked me 'How'd you like the sermon?'…not an unusual question but for me an unusual response…'I didn't like it.' I went on to explain that I realized that with all my involvement at Trinity I was just talking the talk! I considered myself a Christian…I was attending three services a week! Two services on Sunday and the Wednesday Healing Service. And I was feeling very fulfilled, but I suddenly realized that I wasn't doing anything Christian. Christian should be an action verb…not a noun! What was I doing…as a Christian? I told him, I was going to do something...I just didn't know what, yet! I wasn't going to just walk the walk…I was going to take a step as a Christian. Well, a couple months after that Trinity's Associate Rector left Trinity. Prior to her leaving I thought about what she had been doing at Trinity and what I could do pick-up tasks she'd be leaving. She had been serving on the Executive Board of The Branford Food Pantry. After meeting with her and the Board, I filled her position on the Board and have since become Vice-President of the Branford Food Pantry.
A couple years ago I was laid-off from my full-time position at a Printer that has since closed. Currently, I'm substitute Evening Receptionist (Part-time Temp) at The Branford Counseling Center. Was pleased to answer a 'calling' in April and became Parish Administrator at Christ and The Epiphany Church in East Haven and now I'm also Parish Administrator at Church of the Holy Spirit. I'm in West Haven in the morning and East Haven in the afternoon. I think my knowledge of computers, general office and parish office procedures, the workings of the Connecticut Diocese of The Episcopal Church and sharing the ways we worship is beneficial to both parishes.

|

|

Share