---
This week at Church of the Holy Spirit
THE HOLY SPIRIT AT WORK AMONG US
Please wear your nametag!
Your fellow parishioners may know who you are…but wearing your nametag with help Father Bill identify you. Forgiveness is granted for all who have lost their nametags. Please just let us know (on the form in the Narthex) and we will make a new one.
Update From Our Gardeners!
Did you notice that there is an enlarged garden area in the rear of the church where our sunflowers reach for the sky and zucchini vines snake along the ground! Some of this week's bountiful harvest of vegetables.
Squash, Cucumbers, String-beans, Celery & Kohlrabi…Oh My!
We are in need of a hose-reel and more panty(garden)hose to hold up those amazing tomato plants, AND plastic containers left over from your groceries to pack up the produce.
We welcome donations of plants or bulbs from your home garden.
Women's Retreat October 19-21! Cost: $190
For those who have signed up – PLEASE keep adding to your deposit!
You can still sign-up. Financial help is available.
The theme for this year's Retreat is "Fruits of the Spirit" and will be led by Joanne Halstead. In addition to beautiful scenery, great food, roaring fireplaces, jigsaw puzzles, relaxation and hikes – there's wonderful fellowship with your sisters.
Please know that the parish does have discretionary funds to assist any parishioner in financial need. Please see one of your Wardens (Nancy or Keith) if you have need. We also have access to funds to pay for hospital care for those without insurance.
Please note: We always have Large-Print copies of the hymns available. Ask a Greeter.
Fisher House is NOW OPEN.
The long-term residential facility for families of Veterans under care at the VA Hospital is now open. The project was not fully funded. Whatever you can do to help is appreciated. Please donate via the Jar that is in the Common Room during Coffee Hour.
WHEAT reminds us of summertime needs
Help fill the food-need vacuum for families with children who don't have school meals provided during the summer. Your donation doubles the amount of meals provided, i.e. $25 will provide 50 meals, etc. Donation envelopes are in the pew racks. Make checks out to W.H.E.A.T. And of course, donated food items are always welcome.
Teen Challenge Connecticut Freedom 5K on September 22.
A 5K Run and Walk, and Kids Fun Run in the Savin Rock neighborhood. Benefits Teen Challenge CT, who offers faith-based solutions to youth, adults, and families who struggle with life-controlling problems. For info, go to: https://runsignup.com/race/ct/westhaven/runtoendaddiction5k. Anyone intrested in starting to run, or a " couch to 5k" program contact Keith Bailey.
Annual Back-to-School Backpack Collection
Every summer, we gather school supplies for children of local families in need. Start taking advantage of summer school school-supply sales going on!
The following items are requested:
Backpacks for all ages but especially for kindergarten/first graders
Notebooks, folders, rulers, pens, pencils, markers, crayons, glue sticks & tape
Cash/check donations are also accepted – we'll do the shopping if you cannot get out.
Missing Strawberry Shortcake This Year?
On Saturday, August 4th at 6pm, the Outreach and Hospitality Committees will be hosting a Fellowship Event with Strawberry Shortcake and Peach Cobbler! If you have a musical instrument (or a song in your heart) you'd like to bring along to start up some joyful noise, please bring it along! Free will donations will be accepted to further our reach into our neighborhood!
Yes…we are in Transition.
In this time of transition, we pray for the good of the parish and its people.
O Lord, we ask you to guide us in our time of transition.
We need your wisdom, that we might be receptive to change, conversion and growth. We need your grace to redirect our hearts so we may be willing to offer ourselves in joyful service. Do not allow fear, ignorance or pride to limit the work of your Spirit. Amen.
If you have any questions or concerns, please feel free to contact a member of your Vestry or Administrative Officers.
| | | |
| --- | --- | --- |
| Aaron Charney | 203-767-6941 | aaron.charney@gmail.com |
| Bob Meagher | 203-488-8028 | robert.meagher@sbcglobal.net |
| Furahi Achebe | 203-934-3743 | f_achebe@yahoo.com |
| Gene Leitermann | 203-526-3727 | gene.leitermann@gmail.com |
| Kati Guthrie | 203-530-4669 | kati12567@yahoo.com |
| Keith Bailey | 203-933-3257 | rodetec@snet.net |
| Melissa San Souci | 203-430-4582 | melsansouci@yahoo.com |
| Nancy Staniewicz | 203-430-3042 | staniewicz@sbcglobal.net |
| Ralph Lawson | 203-530-3225 | rlawson@snet.net |
| Sarah L. Guterman | 203-887-2619 | sguterman@comcast.net |
| Vicki Rothenhausen | 203-589-9888 | drr416@sbcglobal.net |
| Vivienne McKay | 203-877-8579 | vivmckay@att.net |
A letter from your Wardens & Vestry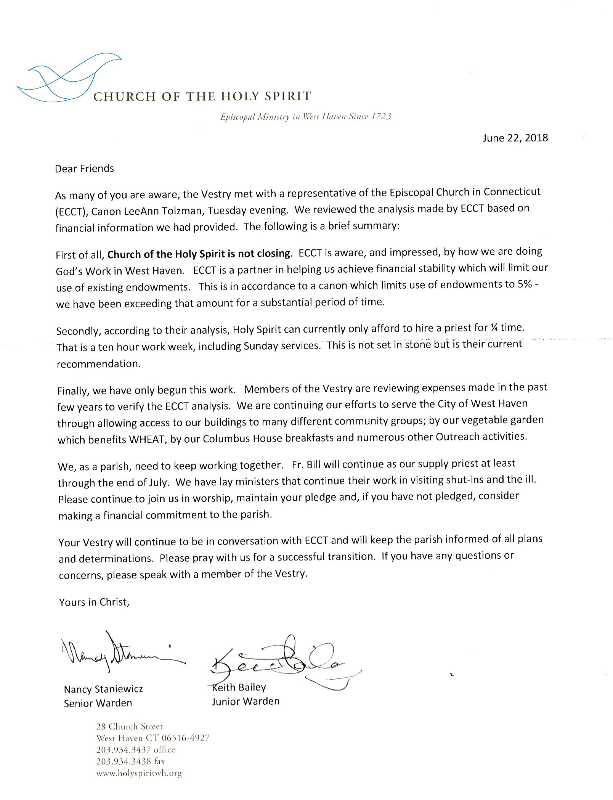 Prayers for parishioners
Jackie Lewis, Kati Guthrie, Georgia Buckholz, Nellie Greenfield, Marina Matts, Richard Orland, Jacquie Mari, Janice, Oliver Bailey, Sarah Guterman, Jane, Jimmy Ballard, Michael San Souci, Diane Kosarko, Rich, Erin Kampa, Libby Bacon, Joe Buonocore, Joanne Halstead
Prayers for family and friends
(in alphabetic order)
Allen-Friend of Vivienne McKay; Alexandra (Missy) Mitchell-Daughter of Pat Dymarcik; Ayla Mitchell-Grand-daughter of Pat Dymarcik; Bert & Kathy Bacon-Grandparents of Alex & Libby Bacon; Buffy Rivera-Former Parishioner; Charles McAfee-Father of Jackie Lewis; Christopher-Son of Richard Orland; Collette & Tom-Friends of Vivienne McKay; D'Angelo Family-Friends of Vicki Rothenhausen; Danny-Brother of David Welch; Daria-Grand-daughter of Sue Carlson; Diane-Friend of Evelyn Bezruczyk; Frank-Brother-in-law of Vicki Rothenhausen; Fred McLaughlin-Brother of Sally Guthrie; Joan-Friend of Vicki Rothenhausen; Joe Weber-Husband of Gloria Weber; Jonah-Friend of Diane Stanislawski; Kathrine-Friend of Diane Rowley; Kirsten & Fred-Friends of Lois Dunphy; Mario Gomez-Friend of David Dymarcik; Marjorie-Friend of Diane Rowley; Mary-Friend of Evelyn Bezruczyk; Mary-Friend of Vicki Rothenhausen; Matt-Nephew of Evelyn Bezruczyk; Robert & Shirley-Parents of Bob Meagher; Ron Waite-Friend of Kati Guthrie; Stacy-Sister of Vicki Rothenhausen; Walter Gregory-Husband of Kathryn Gregory
Special Prayers for Those that Can't Worship With Us
Grace Boulanger, Georgia Buckholz, Joe Buonocore, Carol Cillo, Susan Dupee, Nellie Greenfield, Bob & Lillian Maltese, Bertha Miller, Toots Palermo, Cora & Kent Peckham, Dolly Reiss, Joan Sallies, Dottie & Harold Sellner, Viola Shwab, Alexander Stamatien Sr., Gloria Weber
Birthdays
Grace Boulanger-7/25, Charles Chamberlin-8/27, Jack Joseph-7/28, Gene Leitermann-7/28
Anniversary
Dorothy & Harold Sellner-7/23
SCRIPT CARDS
Gift cards for your favorite grocery store, restaurant, movie theater, clothes store (and so much more!!) are available for purchase here at CHS – and you use them like cash! Every time you shop with gift from us, CHS gets a percentage of the funds back! Please speak with Lesly and Jacque Joseph for more information. That simple effort can offer incredible benefits. Cards in stock include Stop 'n Shop, Shop Rite, Dunkin Donuts and Subway. Others, like Barnes and Noble, Lowes, Walmart, Target, Dominos Pizza and much more, can be ordered.
For on-line shoppers: if you go to our website ( www.holyspiritwh.org ) and scroll down to the bottom of the page, you will notice a link to SCRIP – the company that offers our gift cards. Write down the CHS code, go into the link where you can use the code to get into our shopping site, and browse away! You can purchase printable gift cards and not have to wait for shipment! You can also reload many cards without any wait. Click for the current reload merchant list.
Enter 3B6FFF4821649 at the non-profit line
NEWS : Save your used cards - you can now reload over 70 merchant cards on-line
What stores participate? There are over 700, but here's a sampling:
Drugstores

CVS

Rite Aid

Walgreens

Quick food

Bruegger's Bagels

Chipotle

Dunkin' Donuts

Panera

Starbucks

Subway

Office supplies

Office Depot

Office Max

Staples

Gas stations

76

ARCO

BP

Chevron

Exxon

Gulf

Mobil

Shell

Sunoco

Texaco

Home

Bed Bath & Beyond

The Home Depot

Grocery stores

A&P

Peapod

Safeway

Sam's Club

Shaw's

ShopRite

Stop & Shop

Waldbaum's

Walmart

Whole Foods

More

Amazon

Barnes & Noble

Gap

Kmart

Kohls

Marshalls

Old Navy

Payless Shoes

Petco

Sears

Sports Authority

Target
How might you GIVE THANKS to God through the ministries of this parish?
Opportunities (and great needs) abound for service through your parish. Please consider one of these options and talk with the person listed:
Adult Formation – life-long learners seeking to go deeper in their relationship with God
Altar Guild – Nancy Staneiwicz lovers of being behind-the-scene and setting up our worship space
Choir – Matt Harrison (or any member of the Choir) the joyful noise-makers
Christmas Fair – Suzanne Coleman, Patty Dymarcyk, Kati Guthrie creative crafters, detailed organizers, festivity lovers
Communications Committee – Keith Bailey or Katie Guthrie technologically-savvy purveyors of information
Finance Committee – Gene Leitermann checkbook balancers, entrepreneurs, money producing motivators
Interfaith dialogue and relationships – seekers of a broader truth
Hospitality – Bonnie Mahmood, Kati Guthrie, Jacquie Mari lovers of fellowship and fun
Greeters – Nancy Staneiwicz folks with ready smiles and a willingness to make others feel at home
Outreach – Katie Guthrie, Karin Jacobs carers of justice and mercy for others
Pastoral Caregivers – Evelyn Bezruczyk empathizers with those who are homebound and needing connection
Property Committee – Keith Bailey anyone handy with a screwdriver, paintbrush, broom or pruning sheers
Sunday School – Mark Homburg those who enjoy a child's delight
Ushers, readers, chalice bearers, acolytes – Nancy Staneiwicz worshippers seeking a deeper place within worship
---
RSS Feed

|

|

Share