---
This week at Church of the Holy Spirit
THE HOLY SPIRIT AT WORK AMONG US

Blue Christmas, 6:30pm Wednesday, December 19th
This season of Christmas is a time of Hope, Love, Joy, and Peace and the Great Anticipation and Celebration of the Birth of our Lord Jesus Christ. For many of us, it is also a depressing season, a difficult season. The reasons may vary, and the love and support of our church family can be especially important this time of year. Join us for a quiet service of love and peace this Advent Season. Led by Kati Guthrie. We are in need of Lectionary Readers. Contact Kati if you are available.
Advent Collection Update:
This year, we will be supporting WHEAT and Columbus House with Advent Boxes. The boxes are similar to Advent Calendars, except that, instead of taking something out every day, we will be putting something IN every day! We will collect the boxes on Sunday, December 16th, in order for things to be distributed in time for Christmas! A list of the needs for each charity will be available next week. See Kati Guthrie or Nancy Staniewicz for details.
Christmas Flower Envelopes! Turn in by December 18th
Please use these envelopes to make a donation to help decorate our surroundings for Christmas Eve. Honor a loved one or name a Thanksgiving for God's blessings. (Please print names clearly. All being remembered will be listed in our prayers for Christmas Eve).
A Thank You!
Thank You to everyone involved in the Community Thanksgiving Dinner.
129 Dinners were delivered and 157 Dinners were served.
Lots of Happy, Thankful People!
CRAFTERS GATHER every Friday Morning.
Bring a project or just come and visit.
Deep THANKS to all who helped make
OUR Christmas Fair a SUCCESS!
Gratitude and love to our organizers, bakers, raffle basket-makers, crafters, cooks, heavy-lifters, hosts, advertisers, Vestry Counters, and shoppers – if we tried to name names, we risk leaving someone out! You know who you are!
Hear God's Word: "Well done, good and faithful servants"
SCRIP cards are available! Before you know it the Holidays will be here.
An additional and convenient way for you to add to your financial offerings AND assist with your Holiday Shopping. Gift cards make great stocking stuffers. Last chance to order SCRIP cards for Christmas gifts will be TODAY. Remember the parish gets a percentage of the dollar amount you order at no additional cost to you. List of stores that can be ordered will be available
Please note:
We always have Large-Print copies of the hymns available.
Ask a Greeter.
Life Line Screening, a leading provider of community-based preventive health screenings, will offer their affordable, non-invasive and painless health screenings at Church of the Holy Spirit on Monday, December 17th.
Five screenings will be offered. All five screenings take 60-90 minutes to complete. Sign-up sheets are located on the table at the front of the church and in the Narthex. Parish members receive a $10 discount as Holy Spirit is hosting the event.
Yes…we are in Transition.
In this time of transition, we pray for the good of the parish and its people.
O God,You know us better than we know ourselves. Guide us throughout our time of transition. Empower each one of us to use our unique gifts to create a beautiful life, to share openly and honestly our thoughts, to respect the opinions of others, and to encourage humility, patience and joy. Instill in us a vision of the life you intended for us to lead. Guided by your Holy Spirit, we will be united in love and joyfully accomplish this mission, through Jesus Christ our Lord. Amen.
If you have any questions or concerns, please feel free to contact a member of your Vestry or Administrative Officers.
| | | |
| --- | --- | --- |
| Aaron Charney | 203-767-6941 | aaron.charney@gmail.com |
| Bob Meagher | 203-488-8028 | robert.meagher@sbcglobal.net |
| Furahi Achebe | 203-934-3743 | f_achebe@yahoo.com |
| Gene Leitermann | 203-526-3727 | gene.leitermann@gmail.com |
| Kati Guthrie | 203-530-4669 | kati12567@yahoo.com |
| Keith Bailey | 203-933-3257 | rodetec@snet.net |
| Melissa San Souci | 203-430-4582 | melsansouci@yahoo.com |
| Nancy Staniewicz | 203-430-3042 | staniewicz@sbcglobal.net |
| Ralph Lawson | 203-530-3225 | rlawson@snet.net |
| Sarah L. Guterman | 203-887-2619 | sguterman@comcast.net |
| Vicki Rothenhausen | 203-589-9888 | drr416@sbcglobal.net |
| Vivienne McKay | 203-877-8579 | vivmckay@att.net |


A letter from your Wardens & Vestry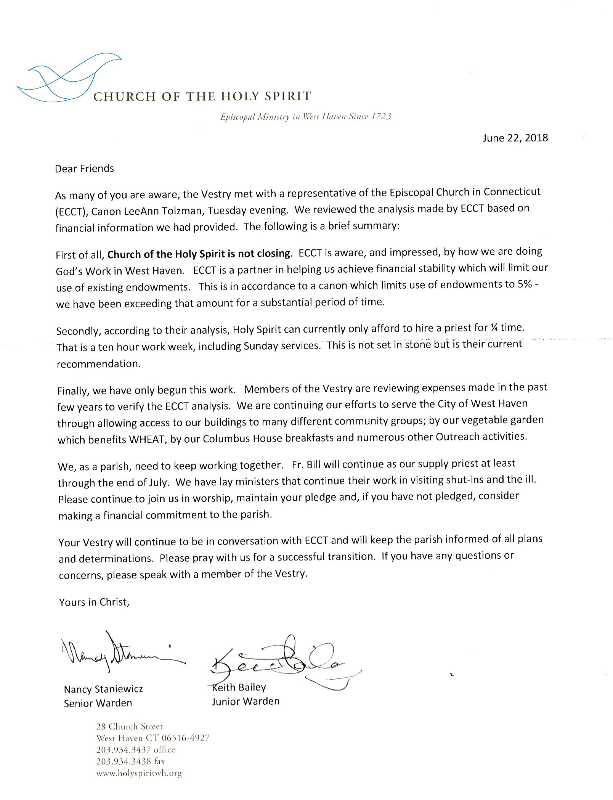 SCRIPT CARDS
Gift cards for your favorite grocery store, restaurant, movie theater, clothes store (and so much more!!) are available for purchase here at CHS – and you use them like cash! Every time you shop with gift from us, CHS gets a percentage of the funds back! Please speak with Lesly and Jacque Joseph for more information. That simple effort can offer incredible benefits. Cards in stock include Stop 'n Shop, Shop Rite, Dunkin Donuts and Subway. Others, like Barnes and Noble, Lowes, Walmart, Target, Dominos Pizza and much more, can be ordered.
For on-line shoppers: if you go to our website ( www.holyspiritwh.org ) and scroll down to the bottom of the page, you will notice a link to SCRIP – the company that offers our gift cards. Write down the CHS code, go into the link where you can use the code to get into our shopping site, and browse away! You can purchase printable gift cards and not have to wait for shipment! You can also reload many cards without any wait. Click for the current reload merchant list.
Enter 3B6FFF4821649 at the non-profit line
NEWS : Save your used cards - you can now reload over 70 merchant cards on-line
What stores participate? There are over 700, but here's a sampling:
Drugstores

CVS

Rite Aid

Walgreens

Quick food

Bruegger's Bagels

Chipotle

Dunkin' Donuts

Panera

Starbucks

Subway

Office supplies

Office Depot

Office Max

Staples

Gas stations

76

ARCO

BP

Chevron

Exxon

Gulf

Mobil

Shell

Sunoco

Texaco

Home

Bed Bath & Beyond

The Home Depot

Grocery stores

A&P

Peapod

Safeway

Sam's Club

Shaw's

ShopRite

Stop & Shop

Waldbaum's

Walmart

Whole Foods

More

Amazon

Barnes & Noble

Gap

Kmart

Kohls

Marshalls

Old Navy

Payless Shoes

Petco

Sears

Sports Authority

Target
How might you GIVE THANKS to God through the ministries of this parish?
Opportunities (and great needs) abound for service through your parish. Please consider one of these options and talk with the person listed:
Adult Formation – life-long learners seeking to go deeper in their relationship with God
Altar Guild – Nancy Staneiwicz lovers of being behind-the-scene and setting up our worship space
Choir – Matt Harrison (or any member of the Choir) the joyful noise-makers
Christmas Fair – Ann Bartiss, Patty Dymarcyk, Kati Guthrie creative crafters, detailed organizers, festivity lovers
Communications Committee – Keith Bailey or Katie Guthrie technologically-savvy purveyors of information
Finance Committee – Gene Leitermann checkbook balancers, entrepreneurs, money producing motivators
Interfaith dialogue and relationships – seekers of a broader truth
Hospitality – Bonnie Mahmood, Kati Guthrie, Jacquie Mari lovers of fellowship and fun
Greeters – Nancy Staneiwicz folks with ready smiles and a willingness to make others feel at home
Outreach – Katie Guthrie, carer of justice and mercy for others
Pastoral Caregivers – Evelyn Bezruczyk empathizers with those who are homebound and needing connection
Property Committee – Keith Bailey anyone handy with a screwdriver, paintbrush, broom or pruning sheers
Sunday School – Mark Homburg those who enjoy a child's delight
Ushers, readers, chalice bearers, acolytes – Nancy Staneiwicz worshippers seeking a deeper place within worship
---
RSS Feed

|

|

Share