---
Faith Formation
Holy Scripture encourages each disciple of Jesus Christ to be formed more and more into the image and likeness of the Lord Jesus. In our tradition, we believe that this type of formation happens across our entire lives, with every moment and every encounter with another person serving as an opportunity to be transformed into the perfect image of Christ.
We also believe that this type of formation takes intention. To that end, Church of the Holy Spirit provides ample opportunities to engage in Faith Formation for all ages.
Holy Spirit Book Club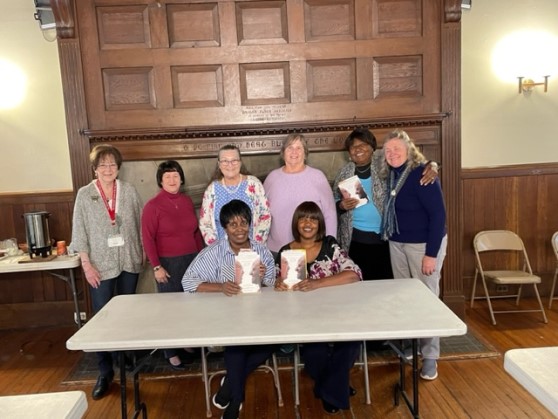 The Holy Spirit Book Club is a small group of Church of the Holy Spirit that meets to read and discuss books and build deeper relationships with one another and with Christ. In the past we've read Inspired by Rachel Held Evans and Being Christian by Rowan Williams. Everyone is invited and welcomed to be a part this ministry. We just wrapped up our most recent book, Love is thy Way by our Presiding Bishop, Michael Curry.
The book currently being read is The Book of Joy by Desmond Tutu and the Dalai Lama.
"For too long the women of the Bible have been depicted in one-dimensional terms. On one side are saints, such as Mary, while on the other are "bad girls," such as Eve and Jezebel. Just as often, the female characters of the Bible are simply ignored. However, the women of the Bible are complex, multidimensional individuals whose lives are inspiring, funny, and tragic in ways too many of us never hear. In this second of two volumes, Lynn Japinga acquaints readers with the women of the New Testament. From faithful forerunners like Anna and Elizabeth to female disciples like the sisters Mary, Martha, and Mary Magdalene to first-generation followers like Lydia and Dorcas, readers will encounter a wealth of foremothers in the faith in all their messy, yet redeemable, humanity. This book introduces and retells every female character who contributes to one or more New Testament stories, diving deeply into what each woman's story means for us today with questions for reflection and discussion."
Meeting Dates & Times:
TBD
Confirm, not Conform Youth Confirmation Classes
[Information Forthcoming]

|

|

Share